Ladies Of Earl Hertford's Court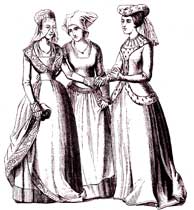 The following ladies are eligible bachelorettes residing at Castle Hertford.
Morcheidys of High Wycomb - The eldest sister of Sir Certher ap Cergwyn, Morcheidys is an honorable woman whose religious zealotry can often put her at odds with others in the Earl's court.Born in 466 she is barely younger than the new player knights. Although she can seem a prig at times, she holds a dear fondness for the commoners of her lands - taking time to know the leaders of High Wycomb village and their ways. She also can frequently be seen at the mews with her favorite merlin and goes coney hunting on Thursdays. Morcheidys is a maid in waiting for the Countess d'Hertford.
Ilaine d'Hertford - The oldest unmarried daughter of Earl Aralyd d'Hertford is yet 19 years old. Her older sister is in Lincoln, a wife to a baron of two estates. The Earl is waiting to marry off Ilaine until the right suitor comes along. The Earl currently has is eye on Sir Elmig, heir apparent to the Duchy of Caercolun, though Sir Elmig seems only mildly interested. For her part, Ilaine is honest to a fault and frequently finds herself turning a suitor away by speaking frankly of his shortcomings. In truth, Ilaine would just as happily stay at Castle Hertford with her family for ever; even if that means never being married.
Obilot of Knebworth - Lady Knebworth is a lonely woman who seems afflicted with the curse of her ancestral home. No landlord in the last 50 years has controlled Knebworth Estate longer than 5 years, some less. A succession of twelve landlords would normally have left the peasants and family devastated and ready to pick up roots to leave their troubled home. However, the matriarchs of Knebworth have all developed great control over their estates and led the peasants to surprising prosperity. This has tended to keep the peasants and liege men happy enough to remain loyal their ladies and ever-changing landlords. The prosperous lands also guarantee that there are always eager suitors for the Knebworth widows. Obilot is no different, though the Earl has yet to determine which of his knights he'll honor with the dubious distinction of Sir Knebworth. Lady Obilot has seemed to stick with the family traits of prudence and industriousness. She's known to be an avid writer and has a library worth of her own papers. As a Christian lady she does occasionally raise eyebrows as she avidly interrogates any knight who has had some marvelous adventure, eager for news of anything fey or occult.
Lady Obilot is not present at Earl Hertford's 485 Pentecostal Court. She has been married twice before. Both times her husband was killed in battle. From her first marriage she has one boy (aged 8.) From her second marriage she has one girl (aged 6) and one boy (aged 2).
Gwenhwyfar of Little Britain - This pious young damsel hails from across the waves in far off Brittany. The daughter of a Knight Banneret, she is sequestered in Hertfordshire from her father's mistaken belief that she will be safer there with her aunt, the Countess d'Hertford. Gwenhwyfar primarily entertains the Countess by singing or playing the harp. Any who speak to Gwenhwyfar are surprised by her sharp mind and many doings of the castle are known to her. She is extremely beautiful and many young knights of Hertfordshire desire her. With all her suitors she carries herself with dignity and, if rumors are to be believed, is inside her heart a rather cold woman.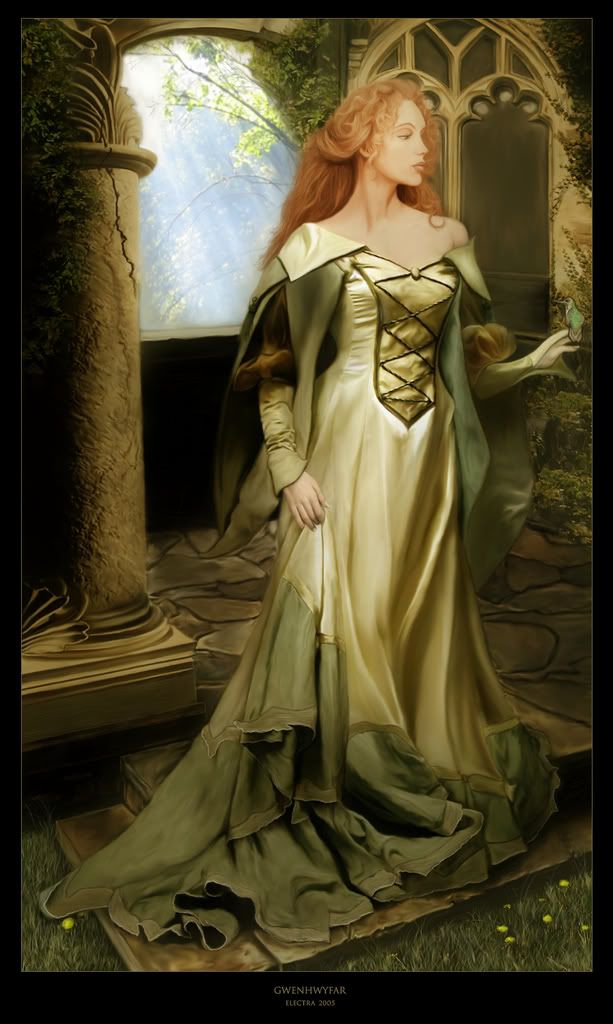 Feunete - The young niece of Sir Aragore ap Gerdig, Feunete is a wiry sprite of a woman. Born in 469 she is newly come of age and ready for marriage. Her love for her uncle is apparent while the two are together. Due to her strong voice, she is often called upon by the Earl to recite some legend of chivalry; for which she all too eagerly recites valorous praise of her uncle and grandfather. Feunete is a maid in waiting for Ilaine d'Hertford.
Tryamour of Borehamwood - Tryamour prides herself on her roman heritage. Her father was a Knight Banneret in far off Tuscany who owed a great favor to Sir Borehamwood. The debt was paid by marrying his young daughter, Tryamour, to the knight. The match was turbulent to say the least, as is evidenced by the lack of child. After only two years (Tryamour is now 17 years old), Sir Borehamwood was laid low by a felled tree. Tryamour has gratefully left the estate to Sir Borehamwood's mother and taken herself to Castle Hertford, "the only civilization in this forsaken county". Although Tryamour is surprisingly beautiful, you would never see it in her overdressed and tense demeanor. When not waiting on Diane, she is most often found in Hertford's chapel or in the orchard playing her blockflute.
Diane d'Hertford - The third and youngest daughter to Earl Aralyd d'Hertford is a troublesome young lass with a penchant for flirting with the pages in the halls of Castle Hertford. Though she cannot be called comely, she is not a homely girl either. Her enthusiastic cheerfulness and sparkling eyes make up for any shortcoming in her figure or face. More than once she's been caught in the buttery with a squire, in various stages of undress. Yet, her obedience and love to her father has thus far kept her chaste in body if not in spirit. She relishes the attention of being the daughter to Earl Aralyd but is quite pleased at her station of being third and out of the focus for marriage to some distant lord. The battle against the Saxons fires her blood and she dearly would love to bed a knight whose valor was won slaying many of the vile norsemen. Being only 12 years old, it would be quite indecorous for someone to deflower her now - not to mention possibly rousing the wrath of the Earl. Diane spends a good deal of her time trying to break away from the oversight of her new maid in waiting, Tryamour.
---
Ophelia of Knebworth - Oldest daughter and only surviving child from previous marriages, Ophelia is 13 and just entering court in the year 491. Although she has the beautiful voice of her mother, Ophelia doesn't show the same interest in song. She instead tends to hide herself in her chambers and do embroidery or play strategic games. She's a humble child and dresses in a way that doesn't accentuate her blossoming figure or charming smile.
Copyright shuteye1990 at Deviant Art
Adwen apf Caramig - The daughter of Marshal Caramig from Hemel Hempstead loves nothing more than enjoying the fine clothing, music, food and culture of Hertford's court. With the recent years' travel to King Uther's court with her father she has become enamored of royalty and hopes to find a way to marry one of the King's courtiers. She keeps herself aloof from men; but, among the women is known to be extremely persuasive in her frequent arguments. She will be of marriageable age in 492.
Copyright Rocktuete on Deviant Art
Eleri apf Arawine - Lord Berkhamstead's middle daughter was impregnated and married young. Her husband, Sir John ap Morial, died defending Boxbourne Estate from Saxons in 489. In the year 491 her daughter is 6 years old and she is 21 years old. Eleri is a passionate gossip who argues incessantly with Adwen apf Caramig. Eleri is remarkably gifted with faces and names and can recite gossip with aplomb from events across Logres over the past six years.
Copyright jeffsimpsonkh at Deviant Art
Glesni apf Owain - Oldest daughter of Lord Owain of Amersham, Glesni will be of marriageable age in 493. She's a healthy, stocky lass with a pretty face and a penchant for flower and herb gardens. Her affinity with plants has brought her closer to the commoners of Amersham, though her devotion to her father and to Earl Hertford is in unparalleled. Though Glesni is terrified at the prospect of Saxons raiding Hertford, she has a secret desire to be able to kill a Saxon herself. To that end, she's made sure to train herself well with a dagger. Whether or not she'll have the courage to use it when the time comes is another matter.
Copyright Rob Rey at robreyart.blogspot.com
---
Gwen apf Uren - The youngest daughter of Castellan Uren, Gwen is a thin and restless lady. Sorrow consumes much of her day. She mourns the loss of her one year old daughter and her husband last year. One to dysentery. One at the Battle of Waltham's Cross. She dotes on her newborn son, Uren ap Carawine. Gwen inherited the subtle genius of her father and is an incredibly talented architect, though she is not learned nor is she male. Gwen's penchant for wine can at times be her undoing.
Copyright ???
page revision: 45, last edited: 22 Oct 2010 09:05